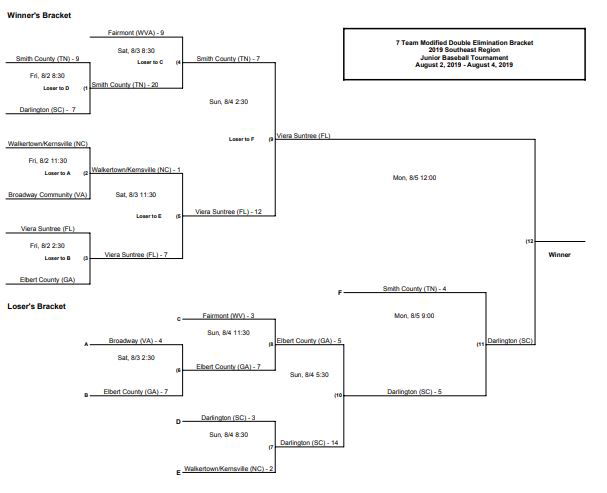 Elbert County Little League (Georgia)
The Georgia state champions are from Elbert County, Georgia and traveled 470 miles for the tournament. The team went 4-0 in their state tournament and outscored their opponents 48-6. As the defending Southeast Regional Champions, Elbert County made it's debut in the World Series in 2018. The 13 players on the team are 13 to 14 years old, with the youngest just turning 13 three days before the tournament. Elbert County, the "Granite Capital of the World", is a small community in northeast Georgia that has always showed immense support for it's youth. Last year, after winning the Southeast Regional Tournament, the team was welcomed home by people lining the roadways holding signs and a special ceremony at the Little League fields. The team hopes to repeat with another Southeast Regional tournament win this year.
Darlington Little League (South Carolina)
Traveling from home of the NASCAR track "Too Tough To Tame" we are Darlington County Juniors Little League from Lamar and Darlington, SC. Our team is traveling 360 miles from the Palmetto State. We are the undefeated South Carolina State Champions with 13 players on our roster ages 13 and 14. Only four of our players played in the southeast regionals last year in Fort Myers, Florida, so we are pretty much a new team with 2 of the same coaches from last year. Our boys are ready to play ball and look forward to meeting new people. Let's go, South Carolina!
Fairmont Little League (West Virginia)
Fairmont Little League, WV State Champions, traveled 150 miles to the tournament from Fairmont. This is Fairmont's first trip to the Regional tournament. Made up of 13 and 14 year olds, this team went 3-0 in the WV State Tournament. Located in north central WV, just south of West Virginia University, Fairmont is home to the first Father's Day. We are proud to represent the Mountain State and look forward to playing the teams in Broadway.
Viera Suntree Little League (Florida)
Launching from the Space Coast of Florida, VSLL Juniors are comprised of 13 and 14-year-old baseball players who live in the Viera/Suntree community near Melbourne, Florida. These athletes have traveled more than 850 miles to play their hearts out at Southeast Regionals. Florida Juniors Champions are celebrating a victorious season with their 14 player roster and are proud to #represent321 along with the VSLL Majors as Florida's Little League Champions.
Walkertown/Kernersville Little League (North Carolina)Broadway Community Little League (Virginia)
Broadway Community Little League (BCLL) is nestled between the Blue Ridge Mountains and the Ridge-and-Valley Appalachians. Located in the heart of the Shenandoah Valley, the BCLL Junior All Star team captured their first Junior League State Championship in league history. The team is composed of 14 players league age 13 to 14 from the small agricultural and rural area. The BCLL Junior League All Star team welcomes all the state champions from the Southeast Region and is honored to represent the state of Virginia in their home town of Broadway.
Smith County Little League (Tennessee)
The Smith County 13/14 yr Junior League All-Stars hail from the Great State of Tennessee. We are located in the Middle part of the state approximately 45 miles from Music City (Nashville), Tennessee. We are a small but very proud county and we are also proud to note that our Senior League counterparts are Tennessee State Champions 3 years running from 2017-2019! This is our first ever Junior League State Championship and we look to make some noise and are honored to compete in the Southeast Regional Tournament!